Email marketing is a tried-and-true way of connecting with your audience. But what takes it from good to exceptional is personalization. And this is where JotPro, a state-of-the-art AI writing and generation tool, comes in. This post will delve into the world of AI personalized email marketing, and how JotPro helps you ace it with ease.
What Is Personalized Email Marketing?
Personalized email marketing is the practice of customizing email content based on the data you've collected about your subscribers. This can include their name, buying history, preferences, and more. The goal? To provide a tailored experience that resonates with your subscribers on an individual level.
Why Should You Personalize Emails?
Did you know that personalized emails can lead to a 6x increase in transaction rates? However, Experian's research shows that 70% of brands fail to leverage them. Personalization works by making the recipient feel seen and appreciated, leading to enhanced engagement and loyalty.
How JotPro Can Help You with Personalized Email Creation
JotPro offers an AI-powered solution to create compelling, personalized emails. With it, you can quickly generate high-quality, bespoke content that speaks directly to your recipients.
Using AI prompts, JotPro can draft emails for various scenarios: welcoming new subscribers, following up on abandoned carts, or sending special offers. For example, ask JotPro to "Create a personalized email for customers who abandoned their shopping carts," and the AI will return a persuasive email aimed at nudging the customer to complete their purchase.
Discover JotPro's Templates for Email Marketing
JotPro also features a vast range of predefined templates for email marketing. These include "New Product Announcement Email," "Promotional Email," "Thank You for Your Purchase Email," and many more, as stated on the JotPro's use-cases page.
These templates are designed to cater to various stages of your email marketing strategy, helping you to maintain a steady and personalized line of communication with your customers.
How to Generate Personalized Emails with JotPro: Quick Overview
Creating personalized emails with JotPro is a breeze. Here's how you can do it:
1. Log in to your JotPro account and head over to the JotPro Chat.
2. Enter your prompt. For example, you can say:
Write a personalized email for a customer who left a product in their cart.
Generate a personalized follow-up email for a customer who recently purchased a fitness tracker from our website.
Create a personalized birthday discount email for a customer who has been subscribed to our newsletter for a year.
Craft a personalized email for a customer who has left a product in their shopping cart for the last 24 hours.
Draft a personalized email to invite a loyal customer to our exclusive VIP program.
3. Let JotPro do its magic and generate a personalized email that you can send right away!
Implementing Personalized Emails with JotPro
Harnessing the power of AI with JotPro makes creating personalized emails easier than ever before. Here's how you can implement this feature to give your email marketing strategy a significant boost:
Step 1: Choose Your Prompt
Identify your email purpose and choose an appropriate prompt. Here is one of the examples of prompts we discussed earlier that we are going to use for this:
Generate a personalized follow-up email for a customer who recently purchased a fitness tracker from our website.
Step 2: Start a Chat
Simply click 'Chat' in the main menu on the left and name your new chat (or use a previous one). Click 'Save'

Step 3: Enter the Prompt in JotPro Chat
Simply go to your JotPro Chat and enter your selected prompt. The AI will generate a follow-up email personalized to your specific need.

Step 4: Review the AI's Output
Once you've entered your prompt, JotPro will generate a personalized email response. Let's see what JotPro generated for us: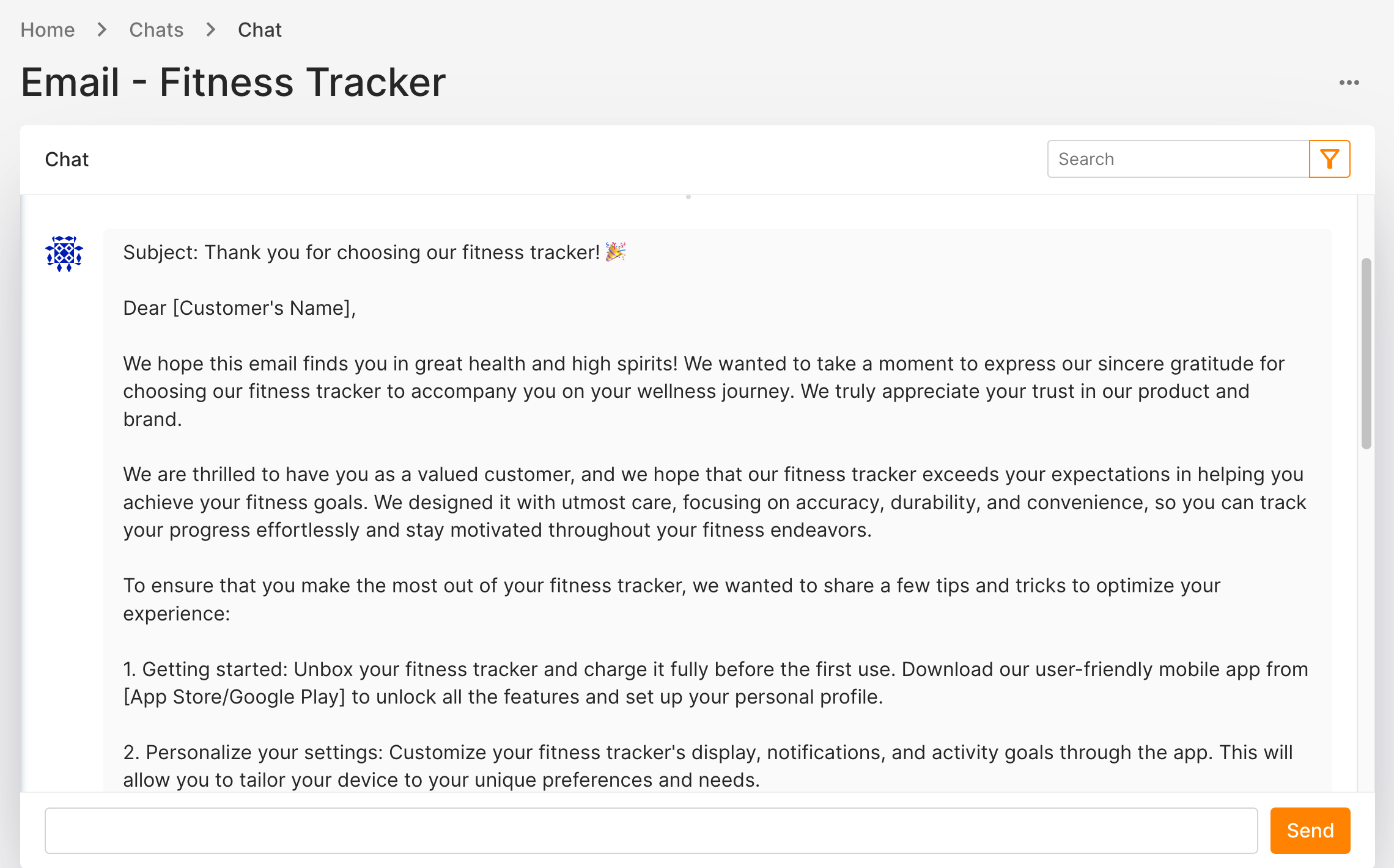 Here is the full personalized email text JotPro Generated:
Subject: Thank you for choosing our fitness tracker! 🎉
Dear [Customer's Name],
We hope this email finds you in great health and high spirits! We wanted to take a moment to express our sincere gratitude for choosing our fitness tracker to accompany you on your wellness journey. We truly appreciate your trust in our product and brand.
We are thrilled to have you as a valued customer, and we hope that our fitness tracker exceeds your expectations in helping you achieve your fitness goals. We designed it with utmost care, focusing on accuracy, durability, and convenience, so you can track your progress effortlessly and stay motivated throughout your fitness endeavors.
To ensure that you make the most out of your fitness tracker, we wanted to share a few tips and tricks to optimize your experience:
1. Getting started: Unbox your fitness tracker and charge it fully before the first use. Download our user-friendly mobile app from [App Store/Google Play] to unlock all the features and set up your personal profile.
2. Personalize your settings: Customize your fitness tracker's display, notifications, and activity goals through the app. This will allow you to tailor your device to your unique preferences and needs.
3. Daily activity tracking: Wear your fitness tracker throughout the day to automatically monitor your steps, distance covered, calories burned, and active minutes. This information will help you understand your daily activity patterns and encourage you to stay active.
4. Sleep tracking: Wear your fitness tracker while you sleep to gain insights into your sleep duration and quality. By understanding your sleep patterns, you can make adjustments to improve your overall well-being.
5. Heart rate monitoring: Utilize the heart rate monitoring feature to keep an eye on your cardiovascular health during workouts and throughout the day. This feature will help you optimize your training intensity and ensure you're working within your target heart rate zone.
6. Goal setting: Set realistic goals using the app's goal-setting feature. Whether you aim to lose weight, increase your daily steps, or improve your sleep quality, our fitness tracker will support you every step of the way.
7. Stay motivated: Share your achievements and progress with friends and family through the app's social features. Engaging in friendly competitions and celebrating milestones together will help you stay motivated and accountable.
Should you have any questions, concerns, or need assistance with your fitness tracker, our dedicated customer support team is always here to help. Feel free to reach out to us via email at [customer support email] or by phone at [customer support phone number].
Once again, thank you for choosing our fitness tracker. We are confident that it will become your trusted companion on your wellness journey, helping you lead a healthier and more active lifestyle. We genuinely appreciate your support and look forward to hearing about your progress!
Wishing you continued success and happiness in your fitness endeavors.
Warm regards,
[Your Name] [Your Title/Position] [Company Name] [Contact Information]
Step 5: Personalize and Send
Make sure to replace the placeholders (like [Customer's Name]) with the actual customer's information. Once you've done that, your email is ready to be sent!
By leveraging JotPro's AI capabilities, you can transform your email marketing approach to create more impactful and personalized interactions with your customers.
Wrapping Up
In a crowded inbox, personalized emails can help you stand out and connect with your audience. With JotPro, the process of creating personalized emails is straightforward, effective, and scalable.
So why wait? Sign up for JotPro today, and give your email marketing strategy the boost it needs.
Amazon Product Links: